Please read this important safety message: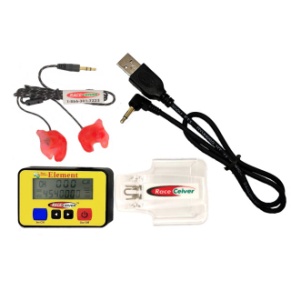 At our spring event the FVRC will again be encouraging participants to utilize the Raceiver one way radio receiver. We have enough radios to equip 2 full heats of drivers exchanging these after each heat. This facility allows the Referee to communicate directly with the heat advising in any changed conditions on the course. We will continue the use of visual communications with flags per the V&H rules. The radios are meant to add an additional communication capability for participants.
While you are welcome to use the FVRC radios many of our participants have purchased their own. Should you wish to purchase one or more they are available through the FVRC as shown. If we get your order in soon we can ship to your address or if it is close to the event we will deliver it to you at Wooten Park.
From personal experience the Element Custom package is the clearest due to the custom earpiece which is fitted to your ear canal shape. Delivery of these takes longer as the kit comes with an earform which you create and return to Raceiver who then create the custom earpiece and fit it with the tiny speakers. This is very comfortable and the Element is water resistant.
Regards,
Dave Richardson