2022 FVRC Spring Thunder Regatta
March 18-20th, 2022
VINTAGE AND HISTORIC DRIVER'S SCHOOL
FVRC will be offering a Vintage & Historic (V&H) Driver School for new and experienced drivers. Designed to educate and prepare both new and experienced drivers, "Ground School" will be conducted in the morning followed by water training and laps in one of the club's trainers under the supervision of your instructors.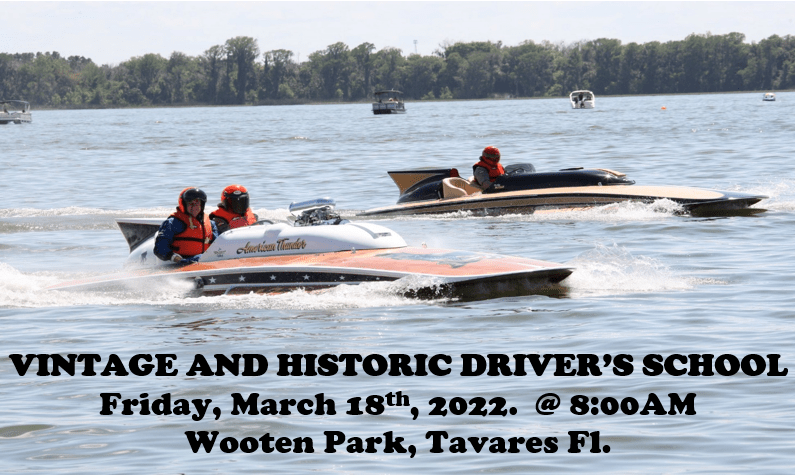 Become familiar with the Vintage and Historic concepts and regulations, get to know the equipment, the APBA regulations by which we operate, drivers' etiquette and much more. Experience first-hand the thrill of rounding the course's turns at controlled speeds. Both outboards and inboards will be addressed, the differences associated with both defined, and each student will have the opportunity to drive one or the other.
Of special note, there'll be a rare opportunity to quiz and interact with a cadre of world-class drivers for their experiences and tutelage.
Seats are limited, so sign up immediately for this unique and invigorating experience. One will graduate with confidence (both on and off the course), an understanding of Vintage & Historic flybys, and a respect for the history we share.
Marv Hart
Lead Instructor
Registration Instructions:
Please read these instructions carefully to ensure full registration.
Option 1: Complete all registration forms, save them to your computer, determine the total amount due and pay by credit card below. You will need to UPLOAD the finished documents when making the payment so we can match the amount to your purchases.
Option 2: PRINT and MAIL registration forms with Check or Money order to: FVRC, PO Box 561544, Rockledge, FL. 32955
Option 3: (Least desirable) Complete forms and pay registration + late fee at event using cash, check, or credit card. Banquet tickets may not be available for participants at the event.
REGISTRATION DOCUMENTS
REGATTA LINKS
CREDIT CARD PAYMENT
Complete the Form Below, ONLY if you are paying online and after completing the proper forms.