Please Direct Your Attention to the Safety Boats on the Course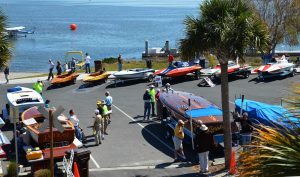 We'd like you to notice something about the course when the raceboats are running. You will see two safety boats with several people in them moving around the infield of the course. They are the APBA Rescue Team and unsung heroes of this Regatta. Without them the raceboats would not be able to leave the docks, literally. APBA rules do not allow raceboats to run without a rescue team present, which includes skilled divers, drivers, and emergency medical responders.
Some things you should realize about this team. First and foremost, they're volunteers. Second, the equipment you see out there isn't cheap to buy and it's not cheap to maintain. Another thing you should know is that this team is no less devoted to this sport than the boat owners and drivers.
So what does a rescue team do? They sit out on the course from start to finish; they are the first boat out, and will always be the last boat in; every day, every event. They sit there in the wind, the rain, the freezing cold sometimes, and the burning sun most of the time. They sit out there and wait for something to go wrong, hoping that nothing does, because it is what they do. Some are here because they love boat racing and some because they were asked to come. They sit watching everyone go round and round all day long ready to do whatever it takes at a moments notice so that we can enjoy this great event. If they weren't here, it would be pretty boring.
A good rescue team on the course is critical to the safety of APBA members.
The goal has always been to keep the family intact and send them ALL home together at the end of the weekend. Keep running safe, run with your brain, not your foot, and remember, turn left!