In the Seat of a Vintage "Flyby"
An owner/driver of a vintage raceboat brings three things to the Regatta; a well restored, properly functioning Vintage Raceboat, documentation of the boat's restoration and history, and an in-water demonstration of this restored piece of history known as 'The Flyby". The Flyby is an opportunity for the owner/driver to put his or her driving and operating skills to the test. Putting aside all the hours of research, craftsmanship, and mechanicals, this is where drivers have to recall or learn skills that are practiced by very few. Often the boat and or driver of a vintage raceboat have noteworthy history. You are encouraged to look at the story boards for each boat as they provide the history of each boat, sometimes sketchy, but always a story. Once discovered, these boats have been invested in (blood, sweat, tears, and a whole lot of money) to bring them to the state in which you see them. These shining hulks of mahogany, plywood, fiberglass, steel, and aluminum could have been mold covered wrecks just a few short months ago.
A good restoration involves research with attention to materials and details to replace pieces and parts that are no longer safe to operate. Untold hours and dollars go into getting a boat ready to run safely around the course. Structurally the boat must be sound and pass a rigorous safety inspection before it is allowed on the course. A performance engine is not like an engine in the family's minivan. On a good day the motor in a raceboat is finicky. On a bad day it can be your worst nightmare. These motors are designed to go all out. Think of your car going down the interstate turning a cool 2300 rpm at 65 mph. You barely hear the motor. Now, double the speed, eliminate the 4 or 5 speed transmission, and what do you get? A screaming 120 mph boat with a motor turning 5000-9000 rpm. I can't hear you! Actually…I can't hear anything!
So you're a spectator watching a Flyby. Here's a little of what it feels like "In the seat of a Vintage flyby" as shared by a number of drivers you will see running this weekend.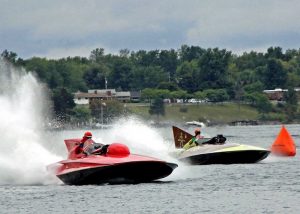 Ok safety check I've got my drivers suit on, closed shoes, lifejacket and helmet, kill switch connected. 90 degrees and 90% humidity, I am hot in this outfit! Ok the boat is launched. Man she looks good in the water! I love this stuff! I'm sitting in the cockpit in my assigned pit area surrounded by people looking at me. I'll bet the people are thinking, how cool would it be to be in that raceboat with the lifejacket, helmet, gleaming wood, and shining metal. I'm thinking, please God, let the motor start. Switch on, gauges jump, fuel? Yup, got enough fuel. Engage starter, motor cranking, come on baby…the motor roars to life! Some in neutral and some literally catching the driver by the seat of the pants and they are off like a rocket. Slam down the visor. Here we go. As I leave the pits picking up speed look to the left to merge into the racecourse traffic. Careful, watch out for my buddies. Check the course flags and lights. We're good to go! Come on propeller, dig in! Oh yeah, now we've got action! I thought they said it was calm out here! My teeth are slamming together! Not hot any more! The wind and spray feels great! On the straightaway now, more throttle, whoops was that the carburetor that hiccupped? Quick check of flags and lights; keep going! Okay I'm headed into turn two and not too sure which direction to head, where are those shore points I marked?! Was it over here or over there? Some traffic now. Whoa! He's getting close, does he know where he is going? Do I? Throttle down some, don't over steer it, man it's choppy, keep the hull right side up. Wave over the deck! Wipe the spray off the visor so I can see! Coming up now! Whoa I caught some air! Feather the throttle! Steady on the wheel! How do I reduce the pain to my body? Hah! The crew chief had asked for a check on the gauges for his feedback when back in the pits, it's rough out here! Every time I look down, all I see is a blur! Check the flags and course lights; everything's cool! Okay on the long back side straightaway! Hit the throttle! Oh man, feel this baby take off! My teeth are chattering! Steady on the wheel, inside lane, left turn, always a left turn. By the docks now, look Ma one hand! Wave to the crowd! BIG SMILE! Everything sounds good, smells good and seams to be working good so it must be good. Still can't see the gauges! Arriving at the dock now with another successful run under the belt, my buds pulling in along side. Feels great! Like I just finished a world record run no matter how fast or slow we were going. Loved the waves from the crowd! Listen to this baby purr. She's as happy as I am doing what she does best.
With strict safety guidelines in effect our participants challenge themselves and their equipment in the Flyby. All raceboats love to go fast and straight. Few raceboats like to go around corners fast. Add in some waves, boat traffic, quirky hull characteristics, mechanical performance issues, and a good dose of adrenalin and you are in for a treat.
Did we mention that APBA Rescue Team? They're out there watching, and ready. Have fun! And don't forget to wave!